You don't need to be a marketing prodigy or even have a degree to build a marketing campaign that stacks up with the biggest companies in the world.
Because every great marketer knows that imitation is the greatest form of flattery, here are three websites that have collected the best marketing materials from the most successful companies so you can copy them.
Whether you are looking for inspiration for your own website or just want to see some good examples of effective marketing, read on to check out the best marketing landing pages, emails, and ads and see what makes them great!
Create Email Campaigns That People Actually Want to Read
Really Good Emails
Up first is ReallyGoodEmails.com, a website that specializes in…you guessed it, really good emails. To create an email campaign that people actually want to read, pull inspiration from this collection of email marketing examples from companies like Airbnb, Dropbox, and Amazon.
What makes these emails great? Well, they are all highly effective at getting the reader to take action. The best part is, you can browse through the emails by industry so you can find ones that are relevant to your business.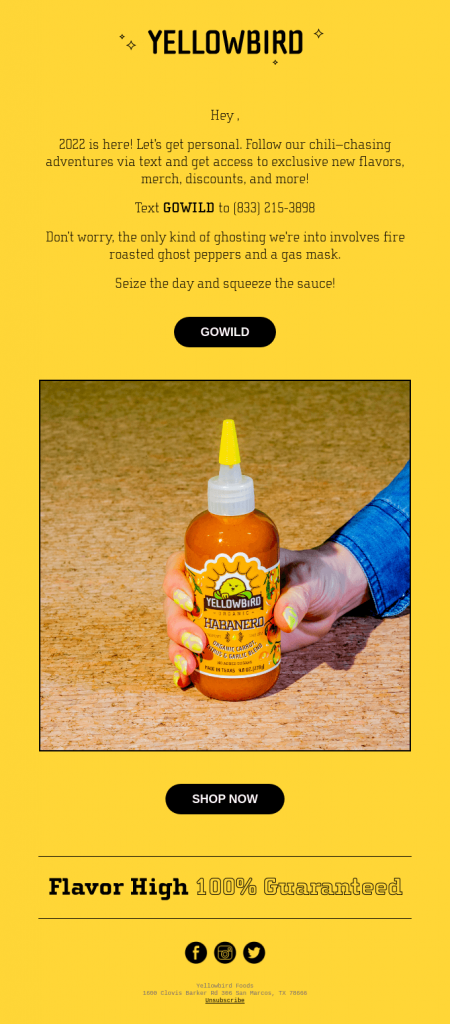 Check out this email from Yellowbird Food.
Getting your users to sign up for text marketing can be an uphill battle, but Yellowbird uses bold colors and a humorous tone to make their SMS opt-in email irresistible. The result is an email that stands out in a crowded inbox and gets people to take action.
What we love
You can easily search and sort by email campaign type to find the perfect examples that most similarly match the goal of your email ie. onboarding, registration, newsletter, offer, invite, webinar, the list goes on…
Once you've found an email that catches your eye, they show you exactly how each email campaign looks across various browsers and mobile.

They rate the accessibility of the email, breaking down exactly what they did well and where there is room for improvement.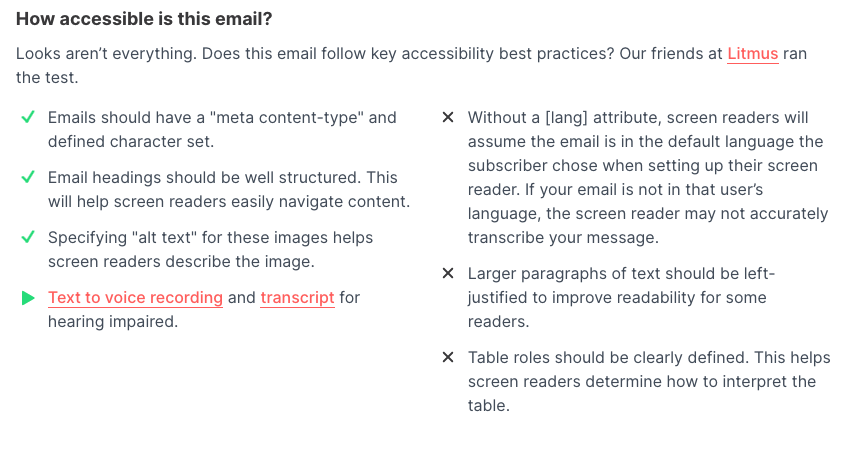 Perks to upgrade
Reallygoodemails.com is totally free to explore. You can even create a free account to bookmark your favorite emails that you want to come back to later and create up to three bookmark categories.
But for $9/mo you can have unlimited bookmark categories and collect and store emails directly from your own inbox using a browser extension.
Create Landing Pages That Convert Website Visitors Into Customers
getscrapbook.com
Next up is Scrapbook. We're not exactly sure what they do but their free resources are 🔥 and we've got to give them props for going above and beyond to put together a collection of awesome landing pages from the fastest growing direct-to-consumer brands that we can copy.
Your website's landing page is often the first impression you make on a potential customer, so it's important to make sure it is effective. A great landing page will be relevant to the user, have a clear call-to-action, and be free of any distractions.
What makes these landing pages so great? They are all very visually appealing and make use of effective marketing techniques to get people to convert.
For example, many of the landing pages use social proof (like customer testimonials) to show potential customers that others have had success with the product. Others use a sense of urgency (like limited-time offers) to get people to take action now. And still, others use a great offer (like free shipping) to sweeten the deal and get people to convert.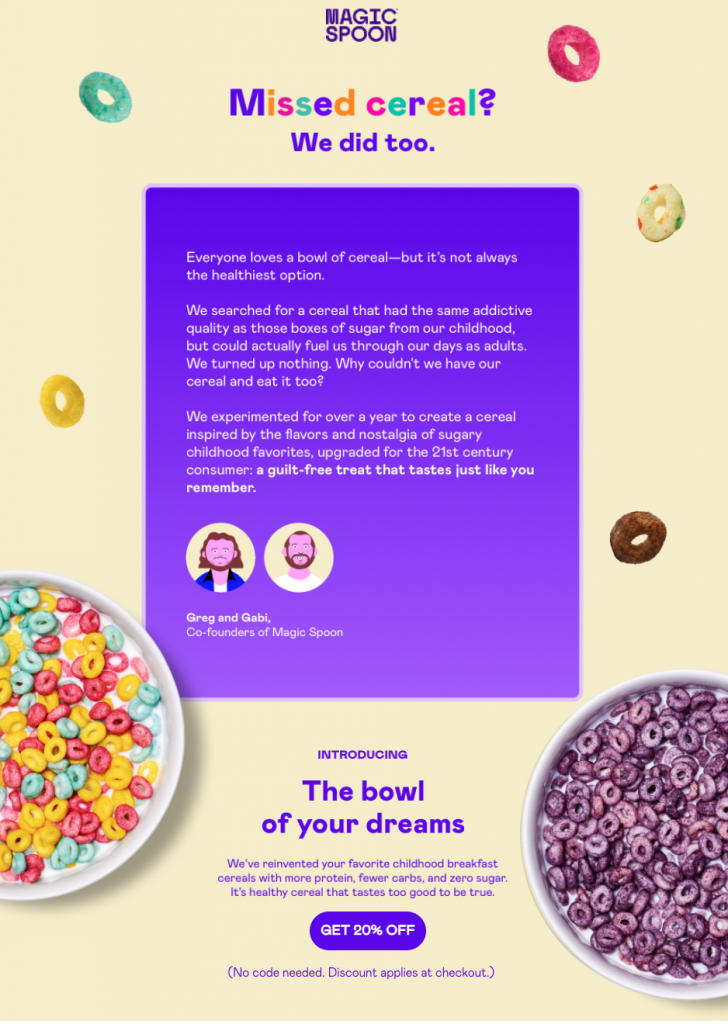 This landing page from Magic Spoon cereal markets to Millennials with the promise of reliving the cereal flavors of their youth. (Which honestly, brought more joy to this 30+ something year old than I care to admit.) The page features direct quotes that emphasize the unique product positioning while reinforcing its value.
What we love
We believe it's always good to learn from marketers who got your attention. This is why we love that this list features all of the trendy brands that have been haunting us on Instagram. Some, we've even caved and purchased from.
Write a Headline That Makes Readers Say "Hell Yeah! That's Exactly What I Need"
getscrapbook.com
Another golden nugget from Scrapbook has us coming back for more! If you're like me, writing a compelling headline often feels like the dumbest part of writing a blog. Nothing makes me feel more like a Billy Mays wannabe than writing a click-baity headline designed to trick people into reading my witty, thoughtful commentary. What keeps me from throwing my shake weight at my computer though, is remembering two golden rules:
There are formulas to follow
Google rules the world and players gotta play, but that doesn't mean I can't still be my most authentic, smart-ass self in the process


What we love
Find ads that even you'd buy from
AdEspresso
Last but not least is AdEspresso.com, a website that has collected some of the best ads from around the web.
What makes these ads great? For one, they are all very visually appealing and use creative techniques to get people's attention. But more importantly, they are all highly effective at getting people to take action.
These ads are all very creative and use a variety of different techniques to get people to click. For example, some of the ads use humor while others play on people's emotions. And don't forget, you can also search Facebook's Ad Library to find current ads from any company.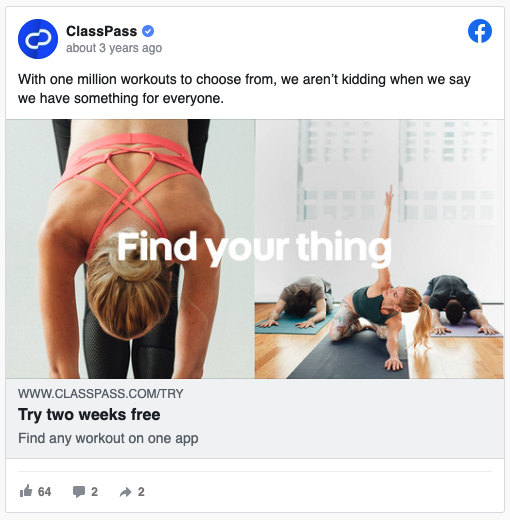 What we love
They break down each ad example with specifics about what the ad did well so you can make sure you are pulling inspiration from the most powerful and effective elements.

Examples range across industries, making it easier to find ads that align with your unique business and goals
So there you have it, three great websites to get inspiration for your next marketing campaign.
Want more advice, tips, and marketing tricks? Contact the Good Impact team! From strategy to creative, we will help bring your brand to life and position it to get the attention it deserves.