When I first got started in corporate social responsibility, one of the most surprising challenges I faced was coordinating corporate volunteer events with local nonprofits.
Finding nonprofits that aligned with our brand and supported our goals was a research project that seemed to never end. Submitting online requests and waiting for responses ate up a crazy amount of time. . I was surprised to find that many of the nonprofits I reached out to didn't even bother to get back to me. Of the few who did, even fewer offered flexibility in terms of the group size they could accommodate or the availability that they offered.
The whole process was less than perfect.
It wasn't until I transitioned to the other side and slipped into the shoes of a nonprofit leader, that I fully understood where these inefficiencies and complications were rooted in: a lack of resources.
Many nonprofit leaders are balancing a number of different job duties, ranging from marketing, project management, outreach and communication tactics, and program development. It's no small feat to juggle all of these responsibilities while also managing to secure external corporate partnerships, all while maintaining internal progress towards real impact.
Having been on both sides of this tug-o-war, I've learned a few tricks.
Here are 6 lessons to help you smoothly navigate challenges to come out on top with a super fierce, engaging, and impactful corporate volunteer program.
ADD VALUE, DON'T ASSUME VALUE
DON'T:
Don't ask nonprofits to create a new volunteer program or physically move their existing volunteer program to accommodate your group. Nonprofits are bootstrapped for time, resources and talent, and accommodating your group requires dedication to all of those things. Even though corporate volunteers have great intentions, oftentimes, they can create more work for the nonprofit staff and offer little reward.
DO:
Instead of assuming your time will make an impact, offer value beyond the act of "volunteering." Take an inventory of the resources that you have available to you and don't be afraid to get creative and think outside the box. Understanding what exists in your toybox of resources will help you to build mutually beneficial partnership strategies with high ROI.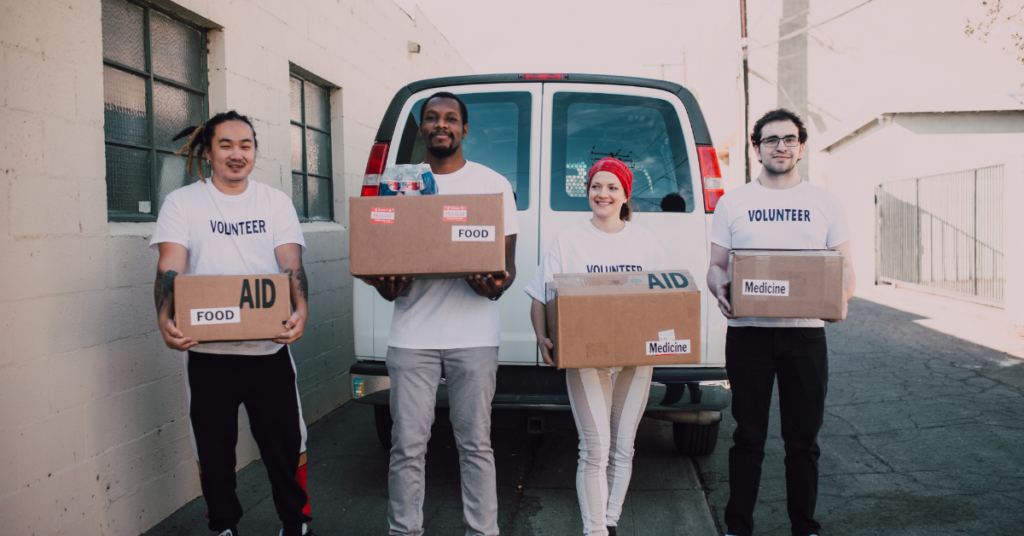 💡 4 WAYS YOUR COMPANY CAN ADD VALUE IN ADDITION TO VOLUNTEERING
1. DONATE MONEY
As valuable as your time is, nothing is as valuable as good 'ol fashion dolla dolla bills y'all. Donations are the most simple form of compensation for nonprofits and often the most appreciated. Nonprofits are often strapped for resources because they rely on the generosity of their donors and partners to function. I know this is going to ruffle some feathers but I will be the one to say it on behalf of all nonprofits out there: donating your time, or your employees' time, is not equal to donating money. It's appreciated, but not equal.
2. DONATE PRODUCTS
If you are a software company, you can give away licenses to the organization and even the people they impact! Engaging your employees to participate in training new users can lead to a sense of job purpose and validation. Own an apparel company? Great! Product samples are a great shame in the retail industry. Donating your product samples instead of hoarding them or throwing them away can make for a hefty tax write-off.
3. MAKE AN INTRODUCTION
Introduce nonprofits to other corporate partners. Sharing (your connections) is caring.
4. MATCH DONATIONS
Include your partner in an internal donation or donation matching campaign.
REWARD, REWARD, REWARD
DON'T:
Don't leave your program un-incentivized and set your expectations high for engagement. We are still talking about humans here – busy ones at that. Set your programs up for success by ensuring that they benefit participants. Time-consuming events can have an opposite effect on engagement and leave people feeling overwhelmed by unfinished work and working overtime.
On the other hand, hosting volunteer events during off-hours or encouraging employees to volunteer during their free time might feel like no one is showing up to your birthday party, over and over again.
DO:
Save yourself the misery and make sure people get paid. Most companies pay employees directly for their time spent volunteering (either their standard hourly wage or a set hourly wage).
However, companies like Apple take a different approach by paying nonprofits directly for hours worked by their employees. This can make a huge difference for a charity and their capacity for impact given that they benefit from both time-spent and dollars donated. Take note though that this format is really only effective when communicated thoroughly and utilized. Otherwise, employees may be volunteering but not know, or how to, submit for the charity donation.
FIND THE RIGHT ACTIVITY
DON'T
Don't try to fit a round peg in a square hole. That's the best way to waste everyone's time but most certainly the nonprofits. In general, training takes up a majority of the facilitator's time and energy so if you brought a bunch of accountants to construct a stage, or your marketing team to judge a math competition, no one is going to be having a very good time.
DO:
Do know your employee's strengths and weaknesses. Seek out activities that suit their skills or even consider some job-purposing options! Allowing employees to apply the skills that they use every day at work can help them to develop a positive association with the work that they do by showing them firsthand the value it adds.
USE YOUR SOCIAL PLATFORMS
DON'T
Don't share photos of impact recipients without authorization. A lot of nonprofits have confidentiality policies in place to protect the privacy and safety of their impact recipients.
You should always assume that these exist for causes related to homelessness, domestic violence, physical and mental health, and children. As a general rule, run your content by your nonprofit contact for approval.
DO:
Do leverage that mega social media following, that you have been so vigilant in growing, to share about the nonprofit's cause and programming with your audience.
This is a great way to communicate your philanthropic efforts, highlight your awesome employee volunteers and engage your audience with a call to action.
SPREAD THE WORD
DON'T:
Don't ssume a nonprofit will promote you. A cross-promotional relationship is not always assumed because of the tax implications that a nonprofit could incur by promoting your products or services. Always have a discussion upfront with your charity partner to detail expectations for your partnership.
DO:
Get your employees involved in promoting your social good efforts. Giving employees the power to effect change sets them up to feel empowered and engaged. It can also be a great way to remind them that you support the causes they care about.
[OVER]COMMUNICATE
DON'T:
Don't send an email once or twice and expect everyone to know about the volunteer opportunity or new program.
We are all juggling a million different tasks on a million different platforms. It's difficult to keep it all straight, I don't care how big your company is or how many emails you send. If people don't know the program exists, they won't use it. It's as simple as that.
DO:
Do talk about your volunteer opportunities and the incentives/perks for participation often and everywhere.
Think through the day of your employees (maybe even shadow some in departments you don't know much about!) and create a communication strategy that reaches them where they are. Policy manual, water cooler, slack, bathroom doors, coffee cups, phone cases – get creative and be persistent with your message.
There is a lot to consider when developing programs for impact but you are motivated, passionate, and fueled by good intentions! Combine all of that good juju with these 6 steps, and you are ready to go forth and activate change!