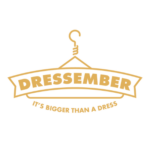 Dressember is a global movement utilizing fashion and creativity to combat human trafficking from every angle. Since 2013, we've raised over $13MM to fight human trafficking around the world.
Is your company or nonprofit looking for the perfect partner to help take your impact to the next level?
Join during our beta period and add up to TEN opportunities for FREE!
Social Media Instagram Live Partnership to Bring Awareness and End Human Trafficking
We are on a mission to end human trafficking and need your help to spread the word and bring awareness to our cause. We are looking for corporate partners to help us spread the word about our December fundraising and awareness campaign, Dressember, in a 15-20 minute Instagram Live.
Every December we host a style challenge where men and women wear a dress or tie for 31 days. Advocates fundraise through the month of December, and since 2013, over 32,000 people have participated raising over $13MM to fight human trafficking around the world. 
We approach human trafficking as an intersectional human rights issue recognizing that there are multiple overlapping forms of systemic oppression involved. To do this, we created the Dressember Network, which is comprised of over a dozen different organizations supporting programs in the following areas: advocacy, prevention, intervention, and survivor empowerment. When you support Dressember, you help dismantle trafficking holistically and in a way that prioritizes survivor needs and voices. A few ways your gift may be used include: Scholarships for survivors of trafficking ($100,000 can provide roughly 30 scholarships!). Safe homes for survivors of OSEC (online sexual exploitation of children). Education costs to create schools in rural areas to prevent child trafficking.
When considering partner alignment, we seek partners that are helping make the world a better place -- however that might look for you! Dressember is about doing what you can, from where you can and making your commitment to doing good unique to you. Companies and businesses that have a target market of females aged 18-44 will benefit most from aligning with Dressember in this way. People come to Dressember to find their place in the fight against trafficking, embark on a journey to being a more conscious consumers, and learn of likeminded companies and organizations aligned with Dressember.
Depending on your goals as a partner, we are open to as little or as much as you'd like to contribute to this partnership. Hosting Dressember on your brand/company's Instagram is a great way to kick off a partnership with Dressember! We would cross-promote the interview with our audience on Instagram (45.5K followers).
Dressember is also a great opportunity to engage employees in giving back during the holiday season, and would love to extend an invitation to your team to participate in the month long campaign. We provide resources for employee engagement and workplace giving.