FIND THE SUPPORT, COMMUNITY, AND FUNDING YOU NEED TO CHANGE THE WORLD
Good Impact Network exists to make fundraising easier so you can focus on what really matters: creating impact and sustaining meaningful change.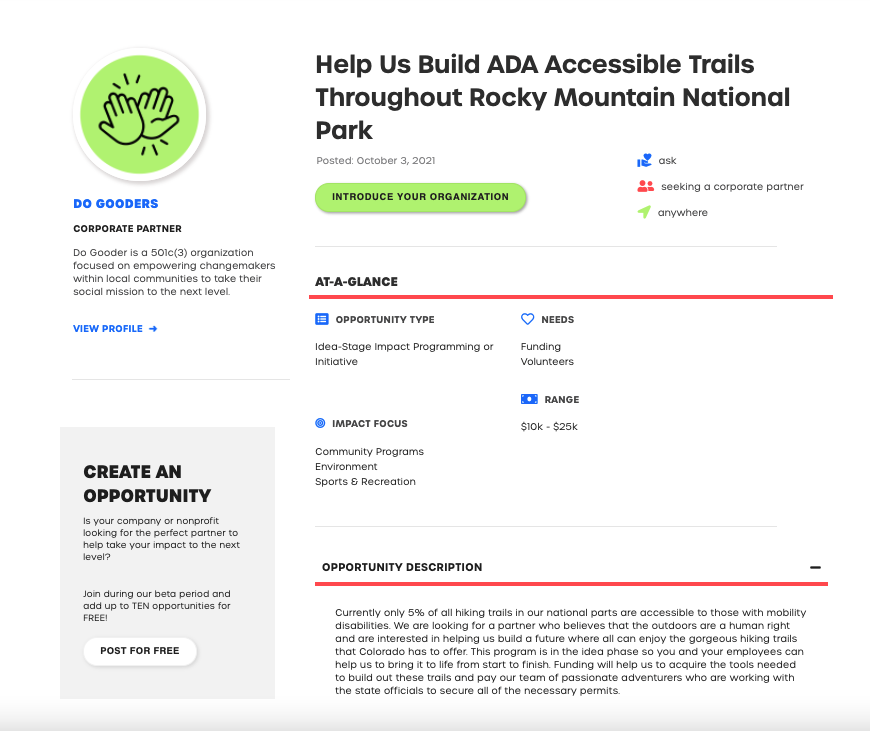 FIND CORPORATE PARTNERS THAT BELIEVE YOU CAN CHANGE THE WORLD
Find social innovators who dream as big as you do by searching our database of corporate partnership opportunities.
Skip the endless email outreach and time-draining Google searches to find aligned impact opportunities for your impact programs.
DISCOVER RELEVANT CORPORATE GRANTS
Expand your search beyond your networks and what has been done before. Find corporate grants to fund your next big idea.
SECURE IN-KIND DONATIONS AND RESOURCES
Find companies looking to support your cause through in-kind product and service donations.
SIMPLIFYING YOUR COLD OUTREACH
Streamline how you network with customizable inquiry forms and a simple applicant dashboard. Because your time is precious.
CONNECT WITH ENGAGED CORPORATE SPONSORS
Skip the dilly dally, and learn from the get go what a company is looking for in a charity partner.
Customize Your profile
PUT YOUR ORGANIZATION'S BEST FOOT FORWARD
Personalize your organization's profile with information about your cause and impact programs. 
Showcase your impact and even past corporate partnerships to help interested companies understand why you would make an incredible partner.
FEATURES DESIGNED TO MAKE CHANGING THE WORLD EASIER
Skip the guesswork know if a partnership meets your criteria before you invest time and energy into building the relationship. Our transparent project descriptions help you to understand if an opportunity aligns with your impact goals, needs, and budget.
Save time and streamline your communications using customizable inquiry templates to automate your outreach and easily apply for new opportunities.
Customize your alerts and email notifications to be the first to apply for new partnership or funding opportunities from aligned companies.
Customize your organization's profile with details about your cause, programs, and impact stats and metrics to market yourself to potential partners. Showcase featured opportunities to promote upcoming events and programs in need of support.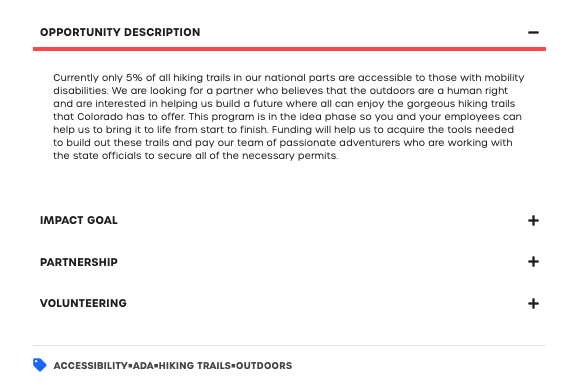 THE WORLD CHANGES QUICKLY
STAY IN THE KNOW